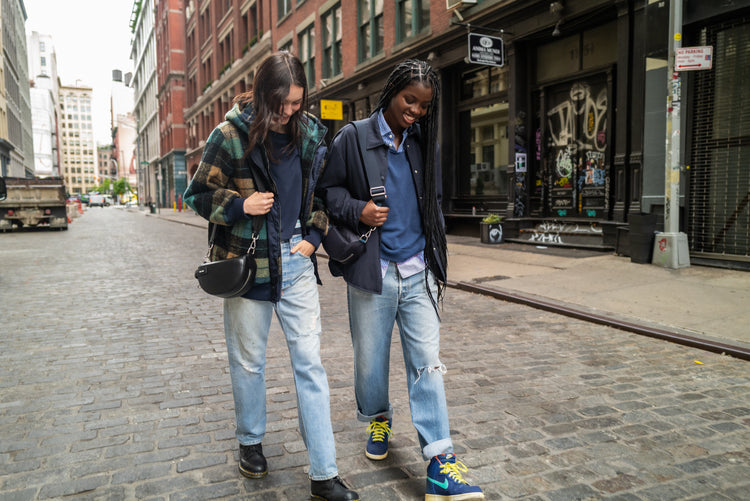 PROGRESS
We Are Just Getting Started
WE-AR4's business model is based on sustainability. We create a direct path to climate-positive impact, finding a new life for materials that would otherwise be down-cycled or become waste. This is a great start, however, we can do more.
We will continue to make decisions and take action to support our 2025 commitments: eliminating non-sustainable custom material production, other than for trims and linings; becoming Carbon Neutral; protecting forests through our paper, packaging and fabric choices; and further influencing our production partners sustainability efforts including the use of water and chemicals.
---
OUR MATERIALS
WE-AR4's design process starts by utilizing existing excess textiles and leathers because that's our most planet-responsible option. There are times when we are not able to use "deadstock" materials, for example for trims and packaging. When we arrive at those moments, we follow our Material Guidelines and the decision-making criteria below.
Today, excess "deadstock" textiles and leathers are the primary materials for over 95% of the collection. By 2025, other than for trims and linings, we commit to eliminating the use of non-sustainable custom materials.
EXCESS MATERIAL
High-quality textiles and leathers, an inevitable by-product of the supply chain, are left over from other brands and past seasons. These surplus materials and leathers are often referred to as "deadstock".
ECO-FRIENDLY STOCK
Materials are typically custom-ordered by brands, however, some textile mills have stock programs that allow a brand to buy exactly what it needs, without having to meet minimum order quantities – which often result in unused excess. When we buy from the suppliers' replenishment stock programs (aka "on the shelf"), we look for mills that offer low-impact content: materials that are organic, recycled or renewable.
CUSTOM SUSTAINABLE MATERIALS
We occasionally have to order custom materials. When we do, we prioritize low-impact content such as the Repreve recycled nylon that we use for handbag linings. We'll take responsibility for any excess and will work to limit waste.
CUSTOM CONVENTIONAL MATERIALS
Non-sustainable leather or textiles that are made specially for us. This is our very last option, but again, we'll always be transparent about it.
When excess is not is not practical to use such as for trim and packaging, we carefully select thru the lens of sustainability including recycled and "on the shelf" options.
OUR ROADMAP TO BECOME CARBON NEUTRAL
We have been looking at the carbon emissions saved by using deadstock instead of virgin materials on some key products and it is something we want to expand on. More to come.
Having full control of our supply chain's emissions is a current challenge for us due to our size and capacity. Nevertheless, WE-AR4's ambition is to reduce our corporate carbon footprint as much as possible. The first step in doing this is to measure our emissions. We intend to use 2023 (our second year of business) as our baseline to set goals and pave the way towards achieving carbon neutrality by 2025.
WE-AR4 COMMITMENT TO PROTECT FORESTS THROUGH OUR PAPER, PACKAGING AND FABRIC CHOICES
We aim to be as conscious of the materials we use for our packaging as we are with our fashion collections. Our packaging is intentionally minimal and practical. It is not meant to be luxurious but simply a way to protect your purchase as it travels to you. We are constantly looking for innovative ways to minimize our use of single-use and virgin plastic and paper.
In addition, we use poly bags which are compostable. We also ship all garments "flat packed" to avoid hangers and oversized boxes. While we are taking measures to ensure our packaging is thoughtful and highly sustainable, we are now engaging our production partners to make further strides in their packaging.
Paper production can contribute to deforestation. Since our launch in 2021, we have prioritized using paper that is either FSC-certified or made from at least 50% recycled content in our packaging. We are committed to ensuring that the paper we use does not support the degradation or destruction of forest ecosystems, and that all the wood and paper we use comes from sustainably certified sources. We pledge to continue to reduce the plastic we use and that, by 2025, all the plastic that we use will be recyclable or compostable. Read The Pack4Good Position Statement to learn more about our 2025 Commitments.
WATER & CHEMICALS
Our production consists primarily of repurposing deadstock materials, avoiding the chemical and water impact of producing new materials.
We are aware that there is always more that can be done, and we are committed to reducing the remainder of our impact wherever possible. However, due to our current size and capacity, measuring and subsequently reducing the water and chemical impact associated with any non-excess materials we use is challenging. As we expand and grow as a business, our ambition is to influence our partners to adjust their practices within their supply chain, including water and chemical usage and disposal.