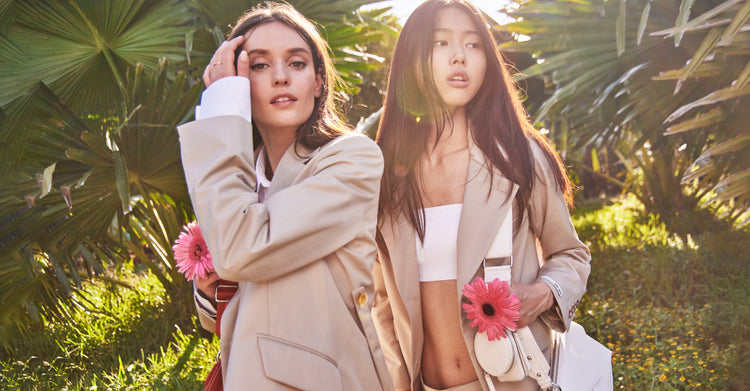 PRODUCT
DESIGN THAT ENDURES
Our clothes and accessories are designed to last, with timeless style and a high level of quality that stems from luxury materials and production excellence. Read What Sets WE-AR4 Apart.
OUR APPROACH
Our approach is to reinvent the process from the inside out, crafting our designs from surplus materials and leathers commissioned by other luxury fashion houses and left unused, aka "deadstock".  By doing so, we create a direct path to climate-positive impact, finding a new life for materials that would otherwise become waste.
RESPONSIBLE PRODUCTION
We consider both environmental impact and social welfare throughout our production supply chain. We manufacture either closest to where the raw materials are available or locally in New York City. Read more about our Our Sourcing Strategy.
We partner with suppliers that meet the high requirements of brands we know and admire.  We expect our partners to comply with the principles outlined in our Code of Conduct.
Animal Welfare
At WE-AR4 we are committed to creating products that respect the planet and its inhabitants. We create products featuring materials that are high quality, durable and sustainable. For our animal-based fibers, we are committed to selecting our materials with intention and care, choosing those which come from excess.  Where this is not possible, we source only those that meet our Animal Welfare Commitment.
PACKAGING
WE-AR4 hangtags are made with 100% recycled paper and printed with soy ink. All branding and care labels are made with 100% recycled polyester.  Our packaging is intentionally minimal and practical. It's not meant to be luxurious but simply a way to protect your purchase as it travels to you. We use poly bags that are compostable and the paper materials within the packaging are made from recycled materials and printed with soy ink. While we are taking measures to ensure our packaging is sustainable, we still have some work to do with the plastic and paper packaging that gets sent directly from the factory with our handbags.
MATERIALS
By repurposing high quality unclaimed existing materials, aka "deadstock", we avoid the negative impact of storing and/or destroying wasted materials.  Instead, our products start their lifecycle with a climate-positive impact. Read about Our Materials.