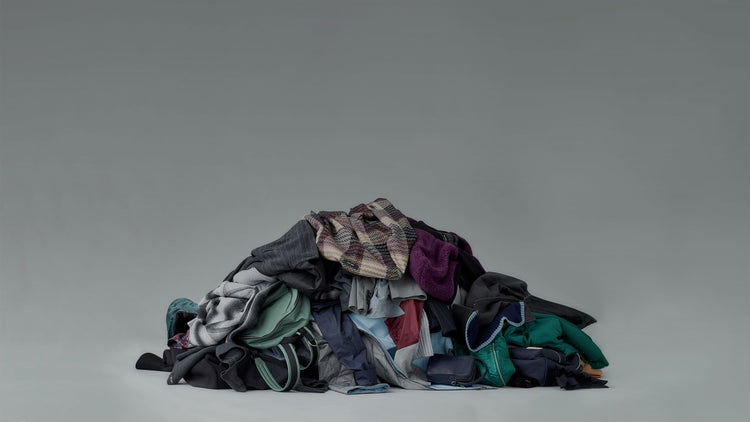 This was scrap.
THEY DITCHED IT, WE STITCHED IT.
WE-AR4 repurposes high-quality excess materials to create planet-responsible handbags and ready-to-wear.
Brand Introduction
To learn more about our brand please download our Brand Book.
OUR STORY
WE-AR4 is a New York-based design-to-wear brand with a global mindset, launched in 2021. We are fashion industry veterans who believe that planet-responsibility is an obligation, not an option. We recognize the industry has reached a moment that demands collective change. We tap our decades of combined experience to rethink the way things have always been done. Our approach is to optimize the process, working from the inside out. By repurposing high-quality excess materials, we create a direct path to climate-positive impact. Where others see an obstacle, we see an opportunity to evolve an industry we love, and to give customers responsible choices that they love.
WE-AR4 PLANET RESPONSIBILITY
WE-AR4 THE FUTURE OF FASHION
Our Mission
Our mission is to create planet-responsible choices. We do this by turning the traditional design process inside out. Instead of developing new materials, we rescue existing ones. We "thrift" high-quality leathers and luxury textiles that are left over from other brands.
Energy Efficiency
We are actively working to measure and reduce our carbon footprint by making business decisions that lead to climate-positive outcomes. On average, we eliminate 80% of the products' GHGs emissions by using excess materials.
Water Efficiency
By creating products with materials that are already in existence, we avoid using the water needed to dye and finish new materials.
Chemical Management
As a new brand we have prioritized sustainable choices throughout our supply chain, however, due to our size we do not have control over all elements. As we grow, our intention is to work on reducing our negative impact, and enhancing our positive one.
Pollution Reduction
We offer and pay for UPS's Carbon Neutral Ground-Shipment, which offsets emissions from customer's shipment. We've made an effort to reduce the transportation required between the material source, production site and distribution center.
Recycling & Waste
Alongside our focus on using excess materials, we prioritize durability and timeless design. We will enable customers to sell and buy pre-loved WE-AR4 pieces on our site and use thrifted clothes/accessories to style our shoots, which also get resold.
Organic Materials
Where we are not able to use excess materials – we look to work with mills that offer low-impact content: materials that are organic, recycled or renewable.
Environmentally Friendly Materials (Excluding Organic)
The first step in our design process is to source existing excess materials because that's our most planet-responsible option. We use excess to make more than 85% of our collection. As we work our way to 100%, we will use other low-impact materials.
Animal Friendly
We have made a commitment to not use fur. We only use existing deadstock leather for our handbags and accessories, saving these materials from being wasted.
Sustainable Business Model
WE-AR4 is founded on a non-conventional fashion model. We start focusing on what materials are already available and designing backwards from this. Although we are still a young brand, we are dedicated to our commitment to use sustainable materials.
Fair Trade
As we are just starting out, we have selected to work with world-class partners who supply to brands that have high standards of social compliance. As part of our journey, we will research how to further ensure fair trade throughout our value chain.
Decent Working Conditions
We consider both environmental and social welfare throughout our supply chain. Since we're just starting out, we use factories that meet the requirements of brands we know and admire. Establishing our own code of conduct for suppliers is a priority.
Ethical Sourcing & Supply Chain Management
With our extensive collective experience (over 100 years) we have identified our main fabric, material suppliers and production partners, who service world-class, internationally recognized brands that have deep roots in sustainable and ethical practices.
Supporting Traditional Skills
We support local pattern-makers and skilled sewers in small factories in New York that are treated and paid fairly in compliance and adhering to local labor laws.
Sustainability Objectives
Carbon Footprint
Commit to measuring the Carbon Footprint of some of our key products by end of 2022, and expanding this to our whole operations (scope 1, 2 & 3) by 2023, with the ambition of becoming carbon neutral.
Excess Material Use
Prioritize the use of excess materials in all future collections, with the ambition of being as close to using 100% excess materials across all of our products.
Pursue B Corp Certification
Ambition to become BCorp certified by 2023, as well as investigating the Future Fit benchmark to enable us to take a holistic approach to sustainability.